Custom Programs: Never "One Size Fits All"
Supply Technologies helps customers increase their competitive advantages by replacing costly, resource-intensive procedures with proven efficient Total Supply Management™ programs. Every one of the programs – whether it's a Vendor Managed Inventory (VMI) program, one that's integrated with your current system, or a tech support program – is expertly designed, implemented, and maintained to precisely address the customer's unique needs. Each is customized per facility, flexible, scalable, and globally connected. And, because each is measurable in real time, we're able to constantly evolve and improve programs to ensure optimum effectiveness.
Vendor Managed Inventory (VMI) programs help our customers significantly reduce manpower and resources, reduce inventory, and ensure ongoing quality - they are the ultimate in efficiency.
Programs are customized to exact distribution and floor specifications, and combine cross-industry best practices with the principals and techniques of Kanban, JIT, JIT II®, Vendor Managed Inventory (VMI), materials management, Lean manufacturing, Six Sigma and supply chain management to meet every need and requirement you have to optimize the production process.
The Steps To Building A Successful Program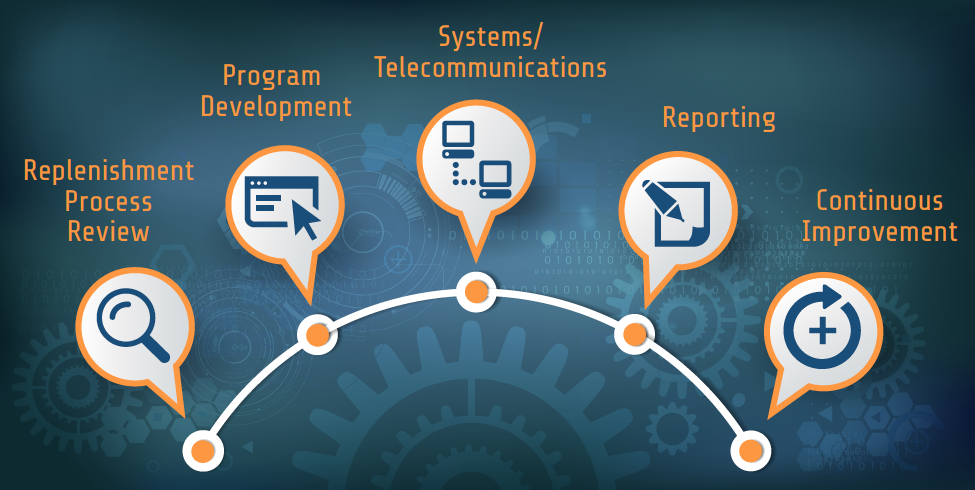 Replenishment Process Review
We first conduct an assessment of how your current process is performing, evaluating it critically to identify opportunities to save costs related to inventory, administrative time and/or space savings, and make optimal use of resources.
Program Development
Using data collected during plant visits and floor audits, we develop a program with a cycle that optimizes inventory levels and movement of product through the plant, taking into account the processes that trigger replenishment, ranging from issuing purchase orders to scanning bar code labels at multi-bin inventory locations. Together, we'll all determine the best scenarios to optimize your manufacturing capabilities by delivering parts directly to central store, drop zones, or point of use.
Programs range from purchases via discrete purchase orders to full Vendor Managed Inventory (VMI), depending on requirements. The program design is complete from dock to stock and includes all touch points, including electronic replenishment, ASNs, staffing, inventory levels, container size, racking design, and eCommerce.
Systems/Telecommunications
At the forefront of systems technology, our systems are fully integrated with our suppliers' and customers' backend systems.
Our time-phased planning system allows service level settings at the item level; settings include safety stock, buy times and lead times. Safety stock on items is automatically updated by the system based on recent demand and future forecast. The system allows for forward-looking forecast factors such as customer build rates – those forecasts are a critical part of our planning tools, and forecasts are transmitted to suppliers to ensure adequate lead times.
The system also manages inventory to avoid any surplus and obsolete inventory. The primary issue in managing surplus and obsolete inventory is to identify change in demand patterns on a timely basis.
Reporting
We proactively ensure your program's ongoing performance using risk management practices related to quality, purchasing, and packaging to accurately communicate the status of program components in a timely fashion. Reports include:
Gap analysis

Exception reporting

Proactive qualification

PPAP

Ongoing receiving inspection

Electronic tracking of containers

Ongoing study of usage by part

Continual analysis of demand spikes

Kanban training
Continuous Improvement
Supply Technologies works to earn your business every day by adding value to your organization and fulfilling our promise to be the supply chain efficiency experts. In both qualitative and quantitative ways, we openly communicate performance and actively listen to our customers' ongoing needs.