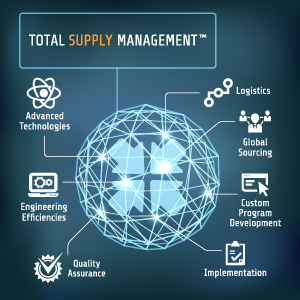 We have a special term for what we do at Supply Technologies: we call it "Total Supply Management™." As you might imagine, we're often asked, "Is that really different from Supply Chain Management (SCM)? How?"
Practitioners today define SCM as the oversight of materials, information and finances as they move in a process from supplier to manufacturer and ultimately to the end user. At Supply Technologies we take it a step further with Total Supply Management™ by identifying and integrating the soft costs impacted by SCM decisions and practices, utilizing seven disciplines over and above unit cost to assist in accurately defining Total Cost of Ownership and adding real value to your business.
Global Sourcing

Logistics

Custom Program Development

Implementation

Quality Assurance

Engineering Efficiencies

Advanced Technologies
By allowing our Tactical Process Analysis Team (T.P.A.T.) to visit your production facility, we can understand all of the day-to-day challenges related to your supply chain and production. The result is a multi-dimensional view of the business and identification of potential improvement for the greatest impact.
Here is what you can expect from our Total Supply Management™ approach, elimination of lead times, better utilization of floor space, improved cash flow, engineering design support, consistent quality and global operation support and sourcing.
Let us help you become more efficient, build high quality products at the lowest Total Cost of Ownership and enhance your competitive position in the marketplace.
By continually seeking out better and more efficient methods, we help customers build the highest quality end use products at the lowest possible total cost, and therefore increase their competitive advantages and opportunities.
We encourage you to learn more about how our T.P.A.T. can identify areas to improve your overall efficiency by downloading our free T.P.A.T. tips sheet.