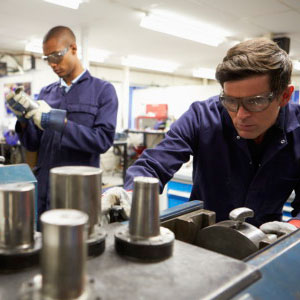 Technical Services:
Relentlessly Pursuing Technical Perfection
The pursuit of technical perfection is nowhere more important than in the quality assurance, engineering and testing of the billions of parts and materials we supply every year to our customers.
It is what drives us to continually seek out better and more efficient methods of enabling you to build the highest quality end use products at the lowest possible total cost – and therefore increase your competitive advantages and opportunities.
Quality Assured
As part of our supplier development and retention process – and to proactively self-regulate our own quality standards – our Technical Services team performs the industry's most rigorous component testing, both at supplier facilities and our regional worldwide inspection centers. In fact, in many instances, customers have Delegated Initial Sample Approval (DISA) responsibility to Supply Technologies, thus eliminating redundant inspection activities and customer resource requirements.
Our commitment to quality is embodied by our being third-party registered to the following standards: ISO 9001, ISO 14001 and ISO 17025.
Designing Engineering Efficiencies
A critical function of our Technical Services team is its ability to work closely with customers' engineers to design efficiencies into existing and new products. An extension of their own departments, we bring experience in over 100 industries to facilitate design development, improve assembly line ergonomics, and reduce costs.
The Value Analysis/Value Engineering (VA/VE) services provided by our Application Engineering Specialists include:
Product introduction and design review

Product tear downs

Application testing

Product standardization

Part consolidation

Assembly line evaluations

Product and industry training

Drawing and specification review

Drawing and model creation
At our dedicated Tear-Down Facility we literally tear down our customers' products every day. With the goal of developing the most technically superior end-use products and solutions available in the marketplace, through improved designs, elimination of redundant parts, and assembly efficiency improvements, we enable your engineers to focus on their next innovation.
Utilizing advanced technologies, including 3D, CAD imaging for both end-use product and piece-part design, we have proven time and again that our ultimate value extends beyond individual piece prices.